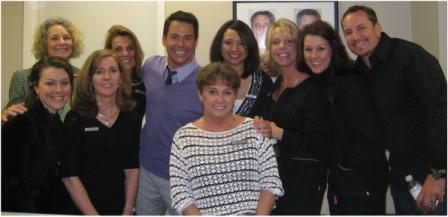 Carlos Diaz is a frequent guest at Jon Frankel Dentistry in Toledo, Ohio. His visits reflect the friendly, fun attitude of both the Toledo and Maumee offices. The Dentists and Dental Professionals at either location are quick to help.  Focused on the Oral and Dental  Health of each patient here are several
FAVORITE DENTAL TIPS.
Angie~ Use a straw while drinking coffee or tea. Your teeth will stay whiter.
Dr. O'Neill~ Use a tongue scraper. Often bad breath can be remedied by daily use of a tongue scraper. He prefers the Breath RX scraper.
Mel~ Use a lipstick with purple or blue under-tones. Your teeth will look whiter.
Karen~ When using dental floss, think that the substance you are scraping off is "left over-night, dried-onto the floor… sticky apple juice. Apply pressure while flossing.
Debbie~ Use a Sonic Flex-Care Electric Toothbrush to keep that "just recently polished" feeling!
Dr. Frankel~ Floss while in the shower. You never forget!
Danielle~ Use your retainer after orthodontic treatment. Your teeth will move back if you don't.
Patient Brandon~ Don't rinse with water after using mouthwash.
Pamela~ Have your teeth cleaned every three to four months if you even have a tiny spot of bleeding. Healthy gums do not bleed.
Dr. Gudelmann~ If you have frequent headaches have your teeth checked for clenching and grinding.
Dawn~ Do not use your teeth to open snack bags or water bottles, cut thread or tape.
Brigette~ After whitening your teeth avoid dark colored foods, colas, teas or coffees.
Heather~ When you are numb after a dental procedure be careful not to bite your tongue or cheek.
Patient Rhonda~ Have your wisdom teeth removed. Your teeth will feel better and be easier to floss and brush.