Teeth seem to be getting whiter and whiter. A beautiful bright smile is attractive. There are several at home teeth whitening products. We asked our dental professionals and patients. These are a few of their favorites.
Both the patients and the dental professionals stressed seeing your dentist first. Dental diseases such as swollen bleeding gums and decay need to be addressed before whitening teeth.
The best option according to those we asked is custom whitening trays. They fit well and therefore the gel is neatly placed around the teeth. Some dental offices offer whitening for life. Once the initial trays are made and tubes of whitening gel purchased patients receive an additional tube of whitening at each dental hygiene visit. 
Another favorite was Crest 3D Whitestrips. They are not custom-made but are convenient and easily accessible.
Opalescence Go is offered at many dental practices as a complimentary gift for new patients after they have completed necessary treatment. Once again, it is not a custom fit but comes in different strengths and is designed to be used 10-15 days for maximum results.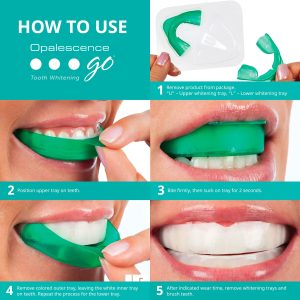 Colgate Optic Toothpaste and Opalescence Whitening toothpaste come up as preferred whitening toothpastes.
It is important to note that while these products can be effective, it is essential to consult with a dentist before starting any whitening treatment.