Toledo dentist Jon Frankel is all about letting his patients know about treatment. He goes so far he'll show you treatment before it begins!
Digital Imaging
Do you want to change the color, shape and proportion of your teeth but can't imagine how it would look? Have you ever wished you could just glimpse into the future and see the results of teeth whitening or dental veneers? Digital Imaging allows you a peak at the possibilities. Digital photographs of your smile can be altered to your specifications. Changing your smile in minutes!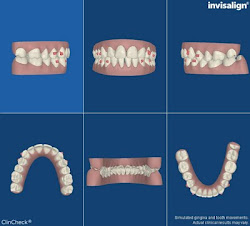 Invisalign Clincheck
Invisalign braces are a series of clear aligners calibrated to slowly move crooked teeth into a more ideal position. Before beginning the process records including photographs, models of the teeth and x-rays are sent to Invisalign. This information is used to create a cartoon animation or Invisalign Clincheck showing the future movement of teeth from start to finish!
Wax Mock-Up
Changing a smile is life changing and often difficult to imagine. Jon Frankel uses models of your existing teeth to design a beautiful smile in wax. No need to leave your smile to imagination. Dr. Frankel let's you see your new smile before treatment begins with a wax mock-up.