Jon Frankel, a Toledo, Ohio dentist focuses on three ways to a Healthy Mouth which in turn promote a Healthy Body.
1. Schedule regular dental visits (minimally twice a year) including comprehensive exams, dental maintenance and correction of dental issues.
2. Use proper home health care including brushing and flossing your teeth and scraping your tongue.
3. Maintain a healthy lifestyle eating well balanced meals, exercising and sleeping adequately.
Yes. Scrape the tongue. Every day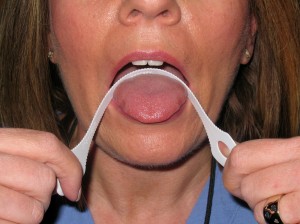 Bacteria form on the tongue as well as the teeth. Brushing the tongue is helpful but not as effective as scraping. There are several varieties of tongue scrapers. The most effective are metal or plastic blades with or without a serrated edge. They are dishwasher safe.
Scraping your tongue the first time can be unsettling. The thick mucous like bacteria is easily rinsed off the tongue scraper. Dr. Frankel recommends using a tongue scraper at least once a day. Many patients have found tooth brushing, flossing and tongue scraping first thing in the morning and last thing at night bring the best results.