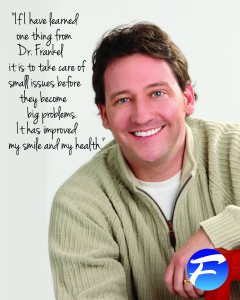 -Answers to the Top Three Questions
our Dental Hygiene Team is Asked-
Part One
Jon Frankel Dentistry, Toledo, Ohio
Why can't I just get my teeth cleaned?
A dental cleaning or prophylaxis is more than it appears.
It feels great.
It looks great.
"Why can't I just get my teeth cleaned?"
A regularly scheduled (every 3, 4 or 6 months) teeth cleaning is referenced by previous visits. Areas of concern have been duly noted and are being carefully monitored. The supporting bone and tissue referred to as periodontal tissue has already been evaluated. Visual examinations, X-rays and calibrated measurements called perio-charting have all been recorded. Areas of wear and older restorations are meticulously charted. Oral cancer screenings are performed each visit. At continued care visits, we know you, your medical history and what you need. Changes will be readily noticed and addressed.
If it is your first visit or if it has been several years since you have had your teeth cleaned. Updating the information is vital. Generally your first visit will be dedicated to a comprehensive evaluation of your dental and oral health. At that time it will be determined if you are a candidate for a dental cleaning or if you need scaling and root planning.
A dental cleaning is a thorough removal of stain, mineral deposits and bacterial plaque of the exposed tooth surface. If it has been several years since the last cleaning often mineral deposits or calculus have formed under the gums. This is a source of infection and inflammation. Scaling will remove the deposits. Root planning will smooth the surface of the tooth under the gums. Generally it requires two appointments. One half of the mouth each visit. Six to eight weeks after the scaling and root planning is completed all the areas will be re-evaluated and a teeth cleaning or prophylaxis will be performed. The first year after a scaling and root planning visits are every three months. After a year the frequency of your teeth cleanings will be determined.
There are risks to avoiding dental cleanings and scaling and root planning. The most obvious is loss of teeth due to gum disease. The gums pull away from the teeth and the supporting bone melts away. Healthy gums never bleed. Unhealthy gums may or may not bleed. Gum disease is often silent without any discomfort.
A healthy mouth promotes a healthy body. Heart Attack, Stroke, Diabetes, Low Birth Weight in Babies, Miscarriage, Pancreatic Cancer and Alzheimer's Disease have been correlated to dental and oral health. Often Cardiologists will refer patients for Scaling and Root Planning before Cardiac Procedures. Gum disease stresses overall health and can hamper recovery.
Regular visits and thorough dental cleaning every 3, 4 or 6 months prevent small issues from becoming big problems. At Jon Frankel Dentistry we love what we do like caring for our dental family with regularly scheduled dental cleanings and exams. You will not only look great and feel great. You will be a proactive partner if your dental and overall health.