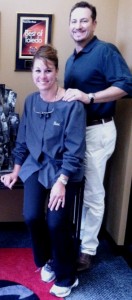 Do you hear wedding bells? We, at Jon Frankel Dentistry, sure do! Our Employee of the Week, Tami, is getting married tomorrow in Calistoga, California. We are very excited for her and wish her the best.
Tami has been a member of Dr. Frankel's team for thirteen years, and has worked along side Dr. Frankel as he creates unique and beautiful smiles. As a certified EFDA, her job includes being the third and fourth hands assisting the dentist as they perform most restorative and cosmetic procedures. Because she excels at her job and is a role model for new EFDAS, her current title at Jon Frankel Dentistry is Dental Assistants Manager.
Tami's eye for detail is outstanding, which makes her very qualified to work on cosmetic cases. In fact, Tami particularly loves working with cosmetic patients and building beautiful smiles. "There is nothing like working with an amazing patient, especially knowing that I have the ability to make them feel better about themselves and change their life just by enhancing their smile," she said.
According to Dr. Frankel she is "one of the most caring when it comes to our patients. She will go over and above for anyone in our practice." It is wonderful to have staff members who are so devoted to our patients comfort and well being.
When away from the office, Tami enjoys spending time with her family, especially her three children and soon-to-be husband. Additionally, her family loves to spend time on their boat. "We practically live on Catawba Island in the summers," she said. But Tami and her new husband have one other pastime that has keep them busy. They are currently restoring and rebuilding a car from 1965!
Again, we would like to sent our love to Tami and congratulate her on her wedding day! We are proud and happy for her, but also miss her around the office this week!
On a side note, have you seen Tami featured in the office tour given by none other than, Carlos Diaz? If not, you have to check it our here…