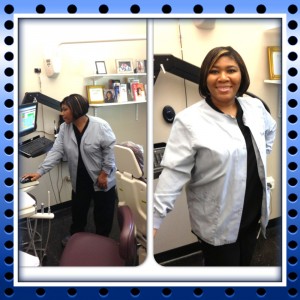 For the past 14 years, Kenyetta has been working for Jon Frankel Dentistry as a Hygiene Assistant, which means that she assists the hygienists while they are cleaning your teeth. More specifically, some of her many job duties include bringing back patients, updating health history records, checking blood pressure, and scheduling appointments.
Kenyetta is very loyal to Dr. Frankel and his office. Because of that quality Dr. Frankel said that she is "irreplaceable." He continued by saying that "I think of her as a sister, and I am thankful that she is on my staff."
Kenyetta is one of the reasons we are able to tell our patients that Dr. Frankel's practice is truly a dental family. She particularly loves getting to know the patients. In fact, she said just last week she realized that she has been assisting the same family for several years. "I was able to remember stories about the boys from when they were really young. Now they are 13 and 15 years old. It is great having the opportunity to watch them grow up," she said.
Aside from being a Hygiene Assistant, Kenyetta is also currently wearing Invisalign, which are clear retainers that help align your teeth. "I used to be embarrassed by my smile and very self-conscious of when I was smiling," she said. Now she is very excited about her results. "I couldn't be happier with the process, and I have gained a lot of self confidence," she continued.
Outside of the office, Kenyetta is is huge movie buff. Not only does she enjoy going to the movies, but she also has a special place in her heart for the classics with her favorite film being Arsenic and Old Lace starting Cary Grant. Additionally, she enjoys word search puzzles and spending time with her niece and nephew.