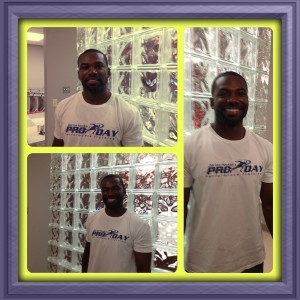 Dorian Hooker, a patient of Jon Frankel Dentistry since 2007, opens a new sports facility to teach speed. And let us tell you, Dorian knows speed.
At the age of 16, Dorian won the Junior Olympics in the 100 meter dash. To further his credentials, he is the most decorated athlete at University of Toledo in Track and Field. He is a five time record holder and a four time NCAA Track and Field qualifier as a sprinter. In 1997 Dorian won MAC titles in both the 100 meters and 200 meters. Additionally, he then anchored the 400 meter relay team that won the league crown. Today, Dorian still hold those five records.
Now Dorian wants to take his skills and help young athletes and build champions. Recently he opened Pro Day Speed, Performance, and Training Program. This facility is dedicated to building a strong foundation for the overall athlete, enabling them to be the best at their sport. His goal is to help the serious and average individual meet their full potential through speed, power, agility, reaction, and quickness training methods.
The program is for kids (ages nine and up) and adults. He also has several different programs including, Core and Strengthening, Speed Camps, Group Programs, Teams Boot Camps, and Individualized training.
Feel free to contact Dorian or visit his website for more information at http://www.prodayperformance.com
Check out that awesome smile 🙂