Parents Beware! Halloween can be a time of added stress for both you and your children's teeth. However, with a few helpful tips, the tricks of damaging treats may be prevented.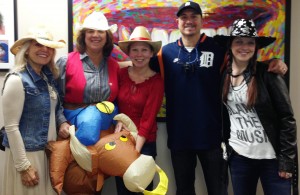 As dental professionals, we do stress the importance to proper dental hygiene and care. However, Halloween is a time when kids should be kids. They should have the opportunity to go trick-or-treating and enjoy the candy they collected. But, as with many things in life, there should be limits.
Below we are giving you six tips to help keep your teeth healthy this Halloween!
1.) Indulge in Treats During Meal Time
Having kids eat treats around meal time has two main benefits. First, by limiting treats to dinner or other times when meals are scheduled, you are making sure your children are eating healthy, nutritious food and not filling up on candy. Secondly, while eating your mouth produces more saliva which helps cancel out harmful bacteria in your mouth and wash food particles away.
2.) Avoid Hard Candy
Hard candies like Jolly Ranchers and Jawbreakers stay in your mouth for an extended period of time, coating your teeth in sugar, which will eventually lead to decay. Instead, it is recommended to eat candies like chocolate which melts quickly and are better for your teeth.
3.) Avoid Sticky Candy
Sticky candies like caramel, taffy, and gummy bears also bath your teeth in sugar and wedge in between the teeth which may cause cavities. Additionally, the stickiness of these candies may be damaging to fillings, causing them to become loose or fall out.
4.) Drink More Water
Drinking water can help rinse the sugar off of your teeth and protect them from decay. Each time you indulge in candy, be sure to rinse!
5.) Donate Excess Candy
While kids love to gather as much candy as possible, eating it all becomes a challenge. Select a limited amount of your favorite candies (preferably chocolate) and donate the excess. At Jon Frankel Dentistry we are buying back excess Halloween candy for a $1 per pound on Friday, November 1st from 7:30-2 and Monday, November 4th from 7:30-5. We will be donating the collected candy and toothbrushes to local Toledo troops who are currently serving our country overseas. Last year we got over 500 pounds of candy off the streets!
6.) Brush, Floss, and Visit Dr. Frankel
Don't forget that it is important to brush twice a day for two minutes and floss daily. After eating candy, it is also a good idea to brush! Now is also a good time to remind your children the importance of good oral hygiene all while keeping it fun. Perhaps treat kids to a new toothbrush or have them try out the cool disclosing tablets that turn any areas where kids may have missed brushing red. Finally, visit Dr. Frankel. At Jon Frankel Dentistry we love kids and they love us! They get to watch cartoons while getting their teeth cleaning and get to pick a toy from our treasure chest!
Like so many times in life, learning can be fun! Don't take the fun out of Halloween this year, but look for good ways to help teach your kids how excess can lead to many problems!