Wednesday, November 27, marked the third annual Free Dentistry Day, where Dr. Frankel and his staff open the doors to help people in need get out of dental pain for the holidays. This year, was quite the success.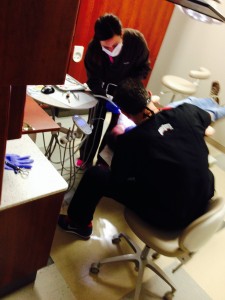 Dr. Frankel preforms a procedure during Free Dentistry Day
2:30 a.m.
It is dark. It is cold. There are snow flurries in the air. At this time, the first patients start to form a line, waiting for Free Dentistry Day to begin.
6:45 a.m.
While many people may just be rolling out of their warm beds, Jon Frankel Dentistry employees arrive to start their busy day. It may be early, but everyone was in good spirits, knowing that they are making a difference this holiday season. By this time, the line in front of the office has grown to over 30 people, who are all cold but patiently waiting for the doors to open.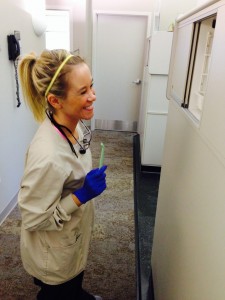 Shawna in great spirits as the day begins
7:00 a.m.
The charts are in place, ready to soon be filled out by patients. Empty chairs that will soon be filled with patients line the hallways. The smell of fresh brewed coffee and doughnuts that was donated by Tim Horton's fills the office.
Dr. Frankel takes a moment to thank all the employees who have volunteered their time to help this holiday season. "It is a great service that we are doing today," he said. "I really appreciate all of you who came out to help."
The list of employees who volunteered their time is endless. It included five dentists, several EFDAS and hygienists, and many office workers. Each worker knew their specific role in order to make this day a success.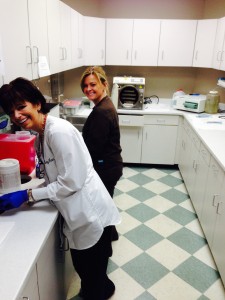 Brigitte and MaryAnn

7:15 a.m.
The doors open. One by one, patients of young and old enter the main door. They each grab a chart and a pen and begin filling out the paperwork. Immediately, they are seated in numerical order, ensuring that the people who were in line early in the morning were going to get treated first… And their wait began.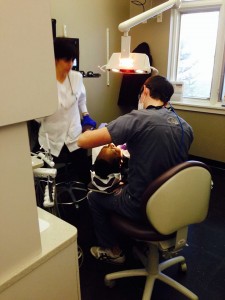 Dr. Balzer helping his first patient of the day
Soon, the first patients of the day completed their treatment. Each one of them showing extreme gratitude as they walked out of the doors. "I don't have insurance, and I can't afford help. Thank You for helping me," one gentleman said upon leaving.
"Two thumbs up and 5 stars," another lady said once she was out of pain. "I have had tooth pain for so long. I am so grateful you guys were able to help me," she continued.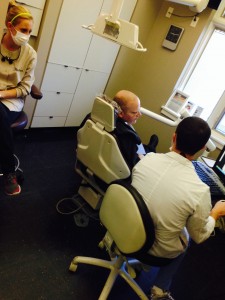 Dr. Shumate discusses treatment with a patient
11:40 a.m.
Dr. Frankel declares that we have reached max capacity for the day with a total of over 70 people served.
The last patient finished their treatment just after 1:15 that afternoon. When all was said and done, procedures such as root canals, tooth extractions, small cosmetic procedures, and fillings were all performed in order to relieve pain this holiday season. These services totaled over $31,500.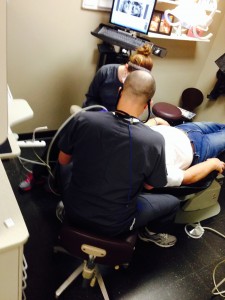 Dr. Hines performing a root canal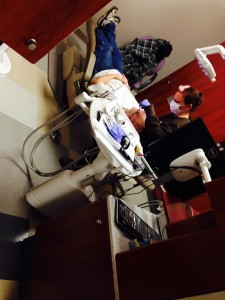 This type of service could not have been obtained without the extra hard work of the clinical staff, working tirelessly Wednesday morning. But, it is always a great feeling knowing that each one of them were able to give back to the community they love!