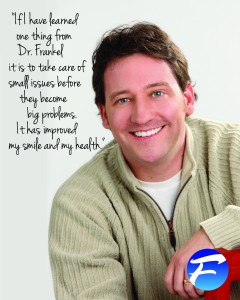 In recent previous blogs, we have discussed how our people and our culture have helped us be recognized as "The Best of Toledo" by the Toledo City Paper. To continue this theme, this week we would like to discuss our impact, which is probably the most important reason we have been rewarded with the "Best of Toledo" honor for the past three years.
In American culture, a person's smile is important. In fact, 92% of Americans believe that having an attractive smile is an important social asset. It is our goal, however, to make sure that even the most attractive smiles are healthy and beautiful. Current research suggests that dangerous bacteria that causes gum disease can enter your blood stream and travel to other organs and begin new infections which may lead to such problems as heart disease and stroke. Knowing this, we have made it our goal to educate our patients that a healthy mouth promotes a healthy body.
Through general, cosmetic, and restorative procedures, Dr. Frankel has been able to help thousands of local Toledo people enhance the health and beauty of their smiles. Additionally, the website features a video library which has become an important tool in patient education. By simply clicking on a short video, a current or future patient can learn from Dr. Frankel what services or procedures provided at the office. If you haven't checked our our video library, click here: http://www.jonfrankeldentistry.com/video-library.php
Our impact has affected many people in Northwest Ohio… but why hear it from us when you can hear it from the people who have experienced it!
http://www.youtube.com/watch?v=hoBbzwrX9Y0
http://www.youtube.com/watch?v=BueQuXZ2Cqo
http://www.youtube.com/watch?v=UUkGn9cDwIc
http://www.youtube.com/watch?v=5H_riFkcp9A
http://www.youtube.com/watch?v=liMVUjyM-HU
Our people, our culture, and our impact are three pillars that we hold to be true at Jon Frankel Dentistry. Help us continue to be recognized as the "Best of Toledo" by voting! Voting is simple! Just click here and cast your vote! Every vote counts, so please spread the word to your family and friends. Thank you Toledo!