Just because we have been named the Best of Toledo, doesn't mean that we stop trying to improve in all areas of care. From the doctors to assistants, hygienists and front desk, our staff loves what they do. In order to keep our services the best, however, we too need additional training.
On May 14th through May 15th, the staff at both Frankel Dentistry of Toledo and Frankel and Puhl Dentistry of Maumee took part in an advanced training seminar with the Scheduling Institute in Atlanta, Georgia.
During the afternoon of May 14th,  50 staff members left the Toledo office to head to the Airport and catch a plane to Atlanta. For some, it was their first time flying. Despite a long flight delay and some time to bond with fellow employees over a few cocktails, we arrived in Atlanta and were treated to a wonderful dinner at Alma Cocina, whose chef is renowned as one of the best in the Atlanta area.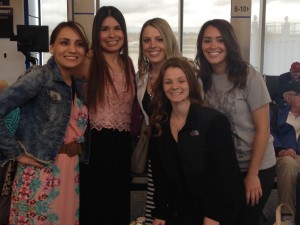 That evening we resided at the Gateway Marriott near the Airport. Early that morning, the entire staff, dressed in matching Red "U" t-shirts, walked across the street to the Scheduling Institute. The seminar lasted the entire day and was extremely informative and fantastic. Each employee brought home a list of how they can better improve their work within the office.
Here is what a few of our employees had to say about the trip:
Irene: "I loved being able to collaborate with other offices around the country and exchange ideas."
Dani: "The discussions about the morning meeting are going to help increase our overall productivity in all areas of our office."
Courtney: "Besides the food, I loved all the hands on activities while in the seminar. It really brought everything they were suggesting to life."
Mel: "I loved getting to know our co-workers outside of the office."
Mary Ann: "The Kolbe (an index that describes the way you problem solve) was my favorite part. I think it is fascinating to learn about myself and other members of my team. By knowing this, we will be able to problem solve better in the future."
Brittany: "I loved the experience of the entire office going together to get high level training by a strong, national company like the Scheduling Institute. Thank You Dr. Frankel and Dr. Puhl!"
Pamela: "It was great to get outside of the office to evaluate and observe areas where we can improve Frankel Dentistry. Additionally, the Scheduling Institute has great systems that will keep us accountable that our systems are in office are in place and working properly."
Danielle (Hygienist): "The two offices rarely get to bond. This trip gave us the chance to really get to know one another and improve the camaraderie between both offices."
Shawna: "The seminar at the Scheduling Institute gave the Frankel Dentistry team a singular goal to work toward in order to greatly improve the services we provide."
Marie: "It was great to spend time outside of the office, collaborating with one another on ways that our office can become better. This type of brainstorming and bonding helps."
Chris: "It was nice for both offices to be together, receiving valuable continuing education that we can implement at our offices."