Beachbody, the company the brings you P90X, Insanity, and Turbo Kick, has a Frankel smile. That's right, Angie Green, one of the trainers that you will see on many of the videos of Charlene Johnson brings her Frankel smile on set.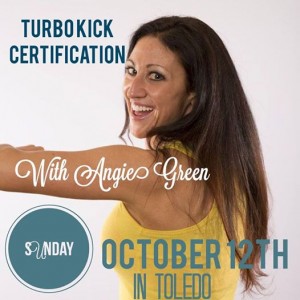 Angie Green began her life as a fitness instructor while in college at BGSU. Upon graduating with her Masters, Angie accepted a position at the University of Toledo REC Center in 2001. However, it was when she decided that she wanted to work for Charlene Johnson that her life took an amazing new turn. After an extensive tryout, Angie was selected to be a member of the demo team for TurboKick.
After Angie had her son, she needed a new family dentist. That is when she joined the Frankel Dentistry family. "I love it at Frankel Dentistry," she said. "I am very pleased with they treat my son and take care of all our needs."
Angie, however, is beginning a new adventure. Being a Beachbody trainer, means there is a lot of traveling. In fact, not too long ago, Angie traveled to train the Toronto BlueJays in an Insanity workout.  Therefore, Angie is no longer working at UT. Today, her new adventure is focusing on her Beachbody career not only as a star of the videos but also a coach.
Check out Angie Green's facebook page to learn more. https://www.facebook.com/AngieGreen11
And if you are thinking about becoming a certified Turbo Kick Instructor, join Angie on Sunday, October 12th in Toledo.
And check her out in action: