Did you know that you can have a new smile in just 2 weeks? With Dr. Frankel. Toledo's expert in smile makeovers, your dream smile is within reach. Dr. Frankel has performed hundreds of dental veneers cases, each one uniquely crafted to the individual wants and desires of the patient.
Check out our commercial for Dental Veneers:
Now we know you have questions, and Dr. Frankel has the answers. All you have to do is attend a FREE Veneers Seminar on Wednesday, January 21, 2015 at the Talmadge Road office in Toledo from 6:00-7:30 p.m. Dinner will be included in the event.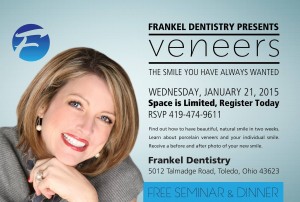 During the event you will get to meet Dr. Frankel and have all of your questions answered. Current veneers patients will also be available to tell you what to expect during the process. And Pamela will be doing free digital smile makeover so you can see what your new smile will look like.
This can't miss event has your name on it! Space is limited, so reverse your spot today by calling 419-474-9611.