Missing Teeth? 
Dental Implants 101
Do you have a missing tooth or teeth you'd like to have replaced, but not sure where to start?  Not sure what dental implants are and if they are right for you?
First of all – dental implants are artificial tooth roots that are surgically placed into your jaw that will hold replacement teeth.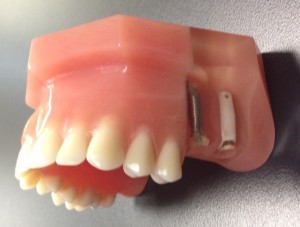 Dental implants provide many advantages including improved oral health, easier time eating, improved self esteem and durability.
Worried about the pain? Don't worry — patients have reported there is very little discomfort involved with this type of procedure. A local 
anesthetic may be
 used to make patients comfortable and just am over-the-counter pain reliever may be needed after the procedure.
How to I care for dental implants? Easy – just like brushing your own, natural teeth. You will still need to brush, floss and come in for regular check-ups.
If you think you may be a candidate for implants,
contact Frankel Dentistry
 , today to make an appointment for an evaluation.