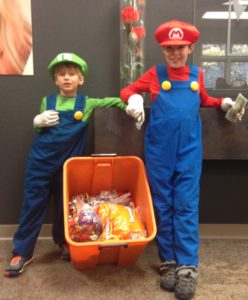 CASH FOR CANDY
Ohio Dentist makes good with Halloween Sweets
TOLEDO, OHIO – Frankel Dentistry's 7th Annual Halloween Candy Buyback
We all know that children may receive money from the tooth fairy, but did you know that children can trade in their Halloween candy for cash? Frankel Dentistry is pleased to be offering their 7th annual Halloween Candy buyback to the Toledo community. Trick-or-treaters can bring their excess candy to Frankel Dentistry's Talmadge Road and Keystone Drive locations and receive $1.00 per pound.
Candy, candy everywhere, what's a parent to do? Halloween is a fun holiday for children to dress up in costumes and participate in trick-or-treating, but sometimes they return with more candy than their own good! Frankel Dentistry wants to remind children that too much sugar can lead to cavities and unhealthy habits. Candy, as well as hurting children's teeth, can lead to hyperactivity and weight gain. "Visiting your Dentist twice a year and brushing daily are preventative measures, but doing away with excess sweets all together will really give your teeth a healthy boost," says Dr. Frankel.
Children may bring their leftover, wrapped Halloween candy to Dr. Frankel for $1.00 per pound. Dr. Frankel donates the treats to a local group of Military Parents to be sent to Toledo troops who are serving overseas. Last year, Frankel Dentistry was able to donate over a ton of candy to our troops – let's try to increase that amount this year!
Stop by either location on the day after Halloween on Tuesday, November 1st. Candy will be collected at Jon Frankel Dentistry at 5012 Talmadge Road, Toledo, Ohio 43623 from 8:00 a.m. until 7 p.m. and 4359 Keystone Drive, Maumee, Ohio 43537 from 3:00 p.m. until 5:00 p.m
Frankel Dentistry emphasizes general family dental care as well as cosmetic procedures. Dr. Frankel is available to provide more information at 419-474-9611 or on-line at www.jonfrankeldentistry.com.