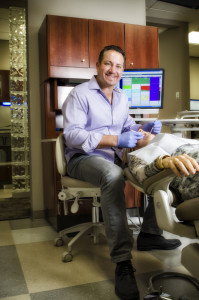 Toledo Dentist Jon Frankel loves what he does. Like his father before him, caring for the dental health of his Northwest Ohio patients is a true passion. His dental profession and office staff enjoy "Changing lives a Smile at a Time" as well.
It is readily apparent Frankel Dentistry patients actually look forward to appointments. The combination of high dental technology being treated like family brings folks back for more! A healthy mouth promotes a healthy body. The Frankel Dental Group is certainly making an impact on lives. It is reflected in what their patients have to say.
I came into the appointment with general anxiety. Somehow, my dental insurance had lapses which exacerbated the anxiety. However, the front desk understood, and though I was running late, the team at John Frankel was accommodating. The dental hygienist (whose name I am sad to say I forgot) was so sweet. She "put out" by my anxiety. I did not feel judged and I truly felt like she was there to help me. By the end of the appointment, even though I need a root canal, I felt better. This contributed to my well-being through out the day and has encouraged me that kindness, and the way we treat others does have a ripple effect. Thank you for your care! It was a pleasant experience, which I am especially thankful for. I am so happy that I am a new patient here! I made the right/best choice!
O.B.
Super —Super — Debbie is great as well as the other staff. Did not see Dr. Frankel, but thanks for the reserved parking space.
L.J.
Dr. Di Terlizzi is gentle, sweet, personable, caring, and talented. Couldn't recommend him more highly.
D.S.
I'm a new patient with some long overdue mouth issues. The entire staff went above and beyond the call of duty to ensure my comfort. I am impressed by the professionalism and rapport the staff has. Clearly, this is a positive environment to work in and the results show in how patients are treated.
ANON
I always get excellent service whenever I go there the staff truly makes you feel very welcome.
S.G.
Twenty months seems like a lifetime, to a now almost 16 year old, who waited so long for the day he could get his braces off. That day finally came and unfortunately he didn't take as good of care of his teeth as we all thought he did. It was just hours later, with his now perfectly straight teeth, did he have a cavity that caused a break in one of his front teeth…straight teeth with a nice chip right in the front. I think we both panicked, thinking how fast can we get this fixed? I called Dr. Frankel's hoping to get a fast appointment. This was a Thursday afternoon; I expected something later the next week or in a few weeks. Thankfully they scheduled him for that following Monday, but better yet, Zack called back the very next day to get him in due to a cancellation. It was less than 24 hours later he was in the office, Dr. Hemanth, who was as kind as can be, had a plan together and his amazing assistant Anne was putting a temporary filling in until a root canal could be scheduled. The root canal was later scheduled for that following Tuesday and I now have a very happy soon to be 16 year old who can smile without feeling self conscience. Thank you, thank you very much to everyone at Dr. Frankel's office from the front desk staff to the phone room to the Doctor and the Assistants who made my sons issue your priority. Sincerely- One Thankful Mom
N.F.
Staff was very friendly and accommodating, I was able to get my appointment to fix a chipped tooth the next day.
J.B.