Every year, the day before Thanksgiving, the Frankel and Frankel & Puhl Dental team members gather at the Toledo location. They open the doors for Free Dental Day. Dr. Jonathan Frankel explains, "We feel Thanksgiving is a special time of the year. Family and friends get together. Our goal is to help folks enjoy a pain-free Thanksgiving."
Patients are seen at no charge.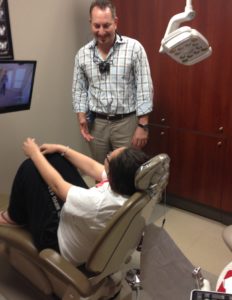 While others are stuffing turkeys and preparing their home for guests the Frankel Dental Group is donating their time, talents and skills to help the under-served with free dental care. What drives them to donate their time and services year after year?
I love helping my community.
-Brittany
Helping people in need is a gift to myself.
-Heather
The people are so appreciative and gracious. I love it.
-Debbie
It is a beautiful experience sharing personal stories and serving the kindest people imaginable.
-Sarah
Smiling faces. It just doesn't get better than this.
-Pamela
We have so much to be grateful for I love to give back.
-Jen
Helping others by giving back is fun. I bring my little sister every year to cheer us on. She loves it!
-K.D.
It is awesome to help people who cannot afford treatment!
-Olivia
Free Dental Day is just the right thing to do. I feel so blessed in my life. I look forward to helping those who are less fortunate.
-Lindsay
If you would like to know more about Frankel Dentistry. K100's Shores and Steel give you the latest!