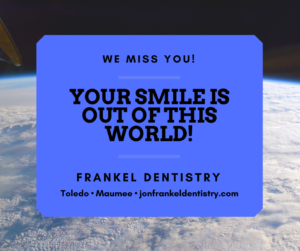 What keeps people from going to the dentist?
We have found that fear, time, no sense of urgency and budget are roadblocks for seeing your dentist.
What do you do at Frankel Dentistry to address a fearful patient?
Offering complimentary consultation and tours as well as listening to our patients keeps even the most hesitant patient coming on a regular basis.
What about time? We are all busy.
Dr. Frankel decided while still a dental student his patients would not wait. We also see emergencies the same day.
Why go to the dentist? My teeth feel fine.
A healthy mouth promotes a healthy body. Dental disease is often silent. Diabetes, heart disease and stroke are associated with your oral health. New studies indicate many types of cancer and even Alzheimer's disease show a link to oral health.
How much will it cost?
We offer a complimentary benefits estimate of dental insurance as well as Care Credit payment options including interest free.