Quit It Today:
May 31 is World No Tobacco Day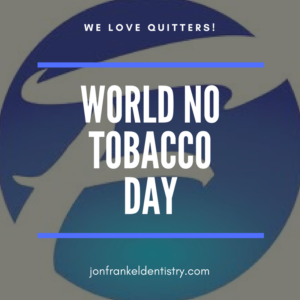 In honor of World No Tobacco Day on May 31, Frankel Dentistry is committed to education their patients on the negative effects of tobacco. Tobacco use includes: chewing tobacco, cigars and cigarettes.
How Does Tobacco affect your oral health:
1) Mouth Cancer in addition to Lung and Throat Cancer may be developed from smoking
2) Teeth Staining from the tar and nicotine
3) Gum disease and tooth loss from the increased dental plaque
The best thing you can do is to never start any type of tobacco habit. If you are a tobacco user, it's not too late to quit.
Quitting can be very difficult, but there are so many sources and resources to support your decision. To learn more about how to quit, please visit the World Health Organization.