There are a variety of reasons employees stay with a company. What motivates one employee may differ dramatically from why the other stays on. At Frankel Dentistry there are many long timers. Let's explore why people stay and what Frankel Dentistry does.
Being recognized and appreciated for their contributions and hard work is important. At Frankel Dentistry, the entire office celebrates an Employee of the month at each staff meeting. Daily, employees show their appreciation of a coworker by posting a "Bravo". "Bravo" postings are read each morning at the beginning of the day. Along with Bravo's we celebrate our Core Values and the ones who demonstrate excellent when it comes to patients and employees!
Opportunities for career development are of great value. Frankel Dentistry offers KOLBE Index assessments for all employees. It is a measurement of strengths and tendencies and helps individuals find the best job fit. Employees at Frankel Dentistry have opportunities to grow into different careers. Front desk staff often chose clinical careers. Dental assistants and Dental Hygienists further their education become Expanded Function Dental Auxiliaries. There are many leadership roles that are also available. There is continuous training for work in and on the dental practice.
Embracing an Owner mindset is critical to satisfaction. Frankel Dentistry has gone a step further. It is the first 100% employee-owned dental practice in the United States. Employees are literally owners.
The delicate work-life balance is imperative to enjoying your work life. Frankel Dentistry offers maternity leave, bereavement time, and operates as an EOS practice. The Entrepreneurial Operating System values are:
Doing what I love. Doing what I love with people I love. Making a huge difference. Being compensated. Having enough time for other passions.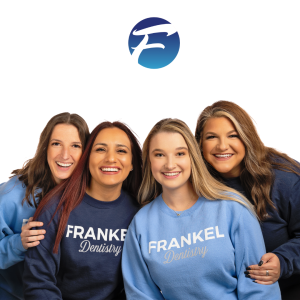 Fair compensation rarely includes health insurance, vision insurance, life insurance, 40K, 401K match, flexible spending account, dental care, family dental care, holidays, PTO, vacation, awards, bereavement, continuing education,  KOLBE  Index Profile, birthday flowers, quarterly events, referral bonuses, and ESOP. It is part of life at Frankel Dentistry.
Trust is imperative for security. Frankel Dentistry offers training through Cleveland based CultureShoc. The education and training include understanding emotional intelligence and communication. The past presentations have referenced the work of business leaders such as Patrick Lencioni (Five Dysfunctions of a Team) and Kim Scott (Radical Candor). These learning opportunities enhance both work and home life.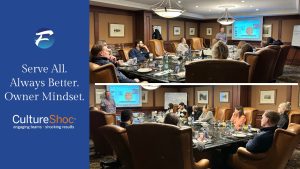 The working environment is pleasant and spa-like. It is designed for the comfort of employees and patients. There are spacious lockers for personal items and a lovely meeting/training/eating area.
Businesses that offer a sense of purpose keep their workers. The employees at Frankel Dentistry are fortunate to work in an industry that helps people. A healthy mouth promotes a healthy body. A beautiful smile has deep emotional and psychological benefits. The employees are Frankel Dentistry are changing lives a smile at a time.