Dental Hygienists are dental healthcare providers! The scope of practice may  vary from state to state. At Frankel Dentistry, our patients tell us we have the  best dental hygienists and we agree.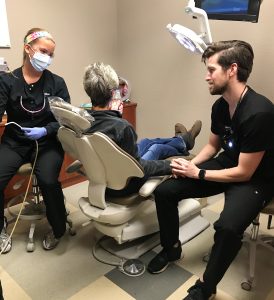 In Ohio, they perform a wide range of services, such as: 
Examining teeth and gums to identify problems, which may include cavities,  gum disease, or oral cancer. 
Cleaning teeth and gums. Using specific dental instruments and tools, they  remove plaque, tartar, and stains, which helps prevent tooth decay and gum  disease. 
Taking radiographs. Dental hygienists may take x-rays of teeth and jaws to  reveal issues not visible in an oral exam. 
Instructing and explaining toothbrushing and flossing, diet, and the use of  fluoride. Oral health education may include diseases of the teeth, gums, and  mouth. 
Local anesthesia and nitrous oxide may be administered by dental hygienists  under the supervision of a licensed dentist. 
Applying topical fluoride to strengthen and remineralize enamel is another  dental hygienist function. 
Dental hygienists are invaluable members of the dental health team. Your  smile will thank you if you see your dental hygienist once every 3 to 6  months.
At Frankel Dentistry, we love our careers and we love our workplace! There is nothing better than serving others through our passions!
Looking for a career in dentistry? Apply online today at www.jonfrankeldentistry.com/careers/
Here why we love Frankel Dentistry: https://www.youtube.com/watch?v=r9dvu_WwOxY